Dead Man's Penny Plaque


We recently received an unusual request to make a special housing for a commemorative penny from the First World War. The penny was received by the family in honour of service by the young Irishman. The customer was particularly interested in using Bog Wood for this piece as she felt the quality and texture of the wood would serve to enhance the importance of the penny.
Together with the customer we carefully chose the right piece of Bog Wood to hold such a precious memento of our history. Each person will see a different shape when they look at a piece of wood, but we all saw Co. Mayo when we looked at this particular piece. The rugged edges of the wood reflect the coastline and a carefully measured circular area was cleared to house the coin.
Mayo holds a special place in our customer's heart, as that is where Private Michael Fallon hails from. He fought and tragically died in World War 1 and his family have treasured his "Dead Man's Penny" down through the generations.
"Dead Man's Pennies" were issued after World War 1 to the families of British and Empire servicemen and women who had perished as a result of battle. The "pennies" were cast from bronze and are approximately 5 inches in diameter. The design was chosen from a public competition that received over 800 submissions. Edward Carter Preston's design features Britannia, with her head bowed, holding a trident in her right hand with her left hand outstretched and bearing a wreath. A rectangle bears the name, but not the rank, of the deceased in raised letters. The soldier's rank was not included as there is no distinction in death between the sacrifices made. A lion stands at Britannia's feet with a second lion at the base of the penny seen devouring a Prussian Eagle. Two dolphins also feature on the penny symbolising the sea power of the Empire. Around the coin are the words "He died for freedom and honour". The reverse of the "penny" was left blank as they were designed for display.
Thousands of young Irishmen were involved in the Great War. They went off seeking adventure expecting the fight to be over by Christmas. They received little training before they were despatched to the trenches and their fate was a story told many times over.




"Irish Mammy Clock" creates a stir!


We were asked to attend the Craft Council of Ireland's launch of their JobBridge scheme held at Farmleigh House and display some of the products availale through www.irishgiftsolutions.com. Minister Joan Burton was in attendance and annouced another 50 places would become available under the scheme specifically for the craft sector. The Irish Mammy Clock was a particular hit with all in attendance - featuring multi zone clocks so that you can keep track of what time you are calling family who are abroad.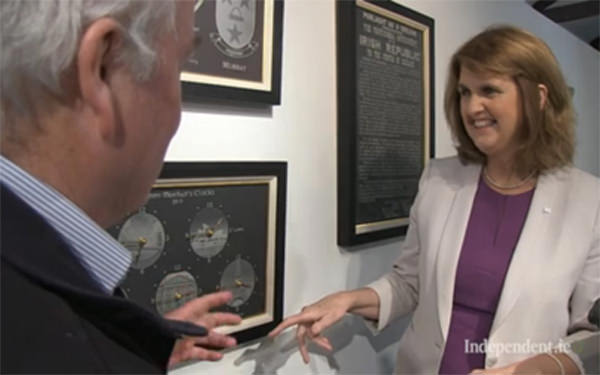 Also generating quite a bit of interest was the 1916 Proclamamtion engraved on slate. On a day when Ireland gainied some its freedom back by exiting the bailout many a nostalgic thought was passed.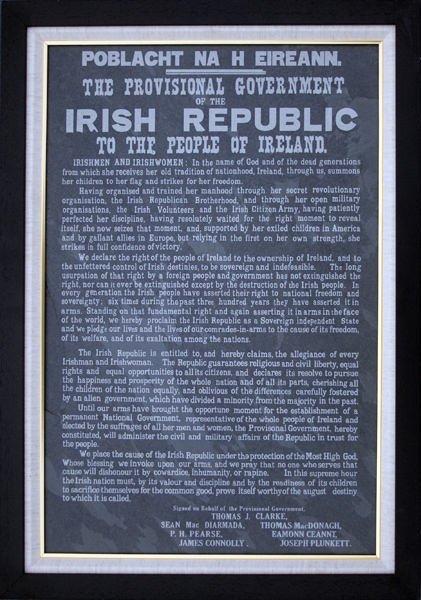 Bog Wood Plaque


Athlone Laboratories in Roscommon recently commissioned this Bog Wood Commemorative plaque to mark the opening of their new manufacturing extension. Bog wood pieces are between 4800-6000 years old and make stunning and impressive pieces to mark any occasion.
The bog wood we use is made from parts of trees - usually stumps that have been uncovered usually when draining or extracting peat from bogs. Often in boggy land the bog wood also rises to the surface, and is then removed.
Around 4000BC the bogs of Ireland spread and trees at the edges of the bogs were covered with water and eventually formed part of the bog.
The bog wood was preserved by the acidic and anaerobic (no oxygen) bog waters which prevented the wood from decaying normally. Bogs are noted for their preservation properties and many interesting artifacts have been unearthed from Irish bogs over the years.
The bog wood we use has been air dried for at least 12 months before it is cut into plaques and finished.




Halloween Commission


Well not really a commission - more a high command!
Request was to cut fancy shape on a pumpkin.
We checked with Mr Google to see if he had anything original. We were not looking for witches or ghosts so we decided to try a Celtic design and then the idea of cutting the shape of the Liam Mc Carthy cup seemed interesting.
Results are below - we are very pleased with the outcome but we will improve and perfect it for next year...

Competition Winner


In October Kane Laser ran a competition in conjunction with The Clare People newspaper to showcase our impressive new gift. The Senior Clare Hurling team became heroes during the month of September 2013 with not one but two epic Hurling matches against Cork. The picture shows winner Louise Herlihy Dunworth collecting her prize. The framed slate measures approx 690x540mm (28X22") so it will add character to any wall.
It is available framed for indoor hanging or unframed with stainless steel fixings for exterior walls, and can be ordered online at Irish Gift Solutions.



Ogham my Goodness


Kane Laser is delighted to launch a new gift product on our e-commerce site www.irishgiftsolutions.com. Taking inspiration from our ancestors we have designed a bespoke twist on ancient Ogham script. Choose a traditional Irish blessing or have someone's name engraved.

If You are Irish or you know Someone Who Is…
Then our new custom designed Ogham signs make a truly great gift. It's a genuine taste of our Irish history that anyone with Irish Heritage will truly appreciate.

Ogham (pronounced "og-hum") is part of the ancient Irish language and has roots going back to the Celtic Tree Alphabet. While the only remaining evidence of Ogham is found on stone it was also used on trees and wooden stakes to mark boundaries. Taking our inspiration from the tree connections we have designed a unique variation on a traditional classic.
Our design, engraved on natural slate, this makes for a wonderful housewarming gift and ideal to place near the door of your home (indoors or out). The mordern word is then scribed on the bottom.
You can choose any number of traditional one word Irish blessings including:
Happiness (Sonas)
Love (Grá)
Health (Sláinte)
Dilseacht (Loyalty)
Cairdeas (Friendship)
Or you can choose to have a person's name engraved to create a unique birthday gift, retirement gift or gift of thanks.
Irish Gift Solutions offers easy checkout and shipment worldwide.

Irish Gift Solutions design and create gifts suitable for many special occasions such as Christmas, Weddings, Anniversaries or Corporate gifts. Using natural slate, Bog Wood, Ash & Marble our Irish gifts can be customised for both indoors and out.
Our online store gives customers the opportunity to browse our range of gifts and customers can enjoy hassle free worldwide shipping. Visitors can read about the company's history and find out the latest additions to the store.

For further information please contact Stephen Kane at Stephen@irishgiftsolutions.com
Ph: 353 65 68 45082
Nine Bridges Golf Tournament South Korea

Padraig McInerney and Michael O'Kelly represented Ireland and Lahinch Golf Club in South Korea at a prestigious Golf Tournament in the Nine Bridges Golf Course. Playing this course, which is one of the Top 100 courses in the world and staying at the adjoining 5 star resort is a tough job. However someone has to do it and those guys are in top form.
To mark the occasion Lahinch Golf Club commissioned a commemorative clock from us to present to their hosts. The clock (image below) was made from engraved Celtic slate, and represents our first shipment to South Korea.
Double click above image for larger view.
New World Record!


Eileen Clair fron The Holistic Therapy Centre Kilrush and Director of BNI Armada Chapter presents Darren Hayes from Hayes of Ennis with specially commissioned plaque from KANELASER. This was presented to recognise his achievement in becoming the first person to circumnavigate Ireland on a Jetski.
Darren and his colleague Liam Cleary took on this challenge to raise funds for TLC4CF (Tipperary, Limerick, Clare for Cystic Fibrosis) which is involved in a drive to collect €4.2m to construct an in-patient and out-patient facility at the Mid Western Regional Hospital in Dooradoyle in Limerick. Over €1.5m has already been collected for the unit.
Presentation took place outside the Armada Hotel overlooking a deserted Spanish Point beach at 6:30am prior to BNI meeting.
***************************************************************************************************
(from The Clare People, 1st Sept 2009)

When Michael meets Muhammad Ali
Former Mayor of Ennis looks forward to seeing his ambitious suggestion bear fruit!
When Muhammad Ali steps onto Ennis soil next week, former Mayor of Ennis, Michael Corley, will witness his ambitious suggestion of 2002 bear fruit.
When genealogists at the Clare Heritage Centre unearthed the unlikely Irish and Clare connections of the boxing legend, in particular his descendancy from the Grady clan in Ennis, Mr Corley, as chairman of the Town Council, suggested that the three-times world boxing champion should be invited to visit the town; the Council unanimously passed the motion to name Muhammad Ali a freeman of Ennis.
Seven years on, and Michael Corley is ecstatic that Ali has decided to accept his invitation, He is counting the days until he finally stands in the presence of a man who was crowned 'Sportsman of the Century' by Sports Illustrated and 'Sports Personality of the Century' by the BBC in 1999. It's something he never believed would happen and he will be standing proudly and prominently to extend a hand and a rapturous welcome to 'The Greatest'.
He has even commissioned local craftsman, Stephen Kane, to produce a commemorative piece to mark the occasion – a laser engraved gift on Killaloe Slate, comprising the coats of Arms of the Clay and O'Grady families with an image from the Turnpike area of Ennis, where Ali's great grandfather, Abe Grady, was born.
"I will take great pride in presenting this piece to Ali," he said. "Occasions like this are once in a lifetime; it's most certainly one that I will cherish and relish for many a day!"
The former boxer's visit has been organised by biotechnology firm Alltech, headed by Dundalk native Pearse Lyons, to establish a fund to raise money for educationally underprivileged children, under the Alltech Muhammad Ali Centre Global Education and Charitable Fund.
The laser engraved gift was created by Stephen Kane of Kane Laser, Ennis, Co Clare.
Former Mayor of Ennis Michael Corley who issued an invitation seven years ago to Muhammad Ali to visit Ennis is pictured with Stephen Kane, and the engraved coats of arms of the Clay and O'Grady families.